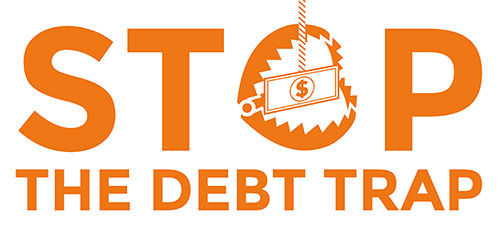 A report has been released by the Stop the Debt Trap Alliance demonstrating how much payday lending is really costing Australians. The results are staggering, with the gross amount of payday loans projected to reach $1.7 billion for the 2018-2019 calendar year.
Who is the Stop the Debt Trap Alliance?
CCLSWA are proud to be a part of the Stop the Debt Trap Alliance, a national coalition comprising of over 20 consumer advocacy organisations from across Australia. Each of the organisations involved witness the harm caused by payday lending, through advice and casework services they provide to vulnerable Australians. The organisations include community advocates, financial experts and service providers. The Alliance was launched in August 2019, marking 1,000 days since the Coalition Government accepted the recommendations of the independent SACC Review into small credit contracts.
Key Findings
Amongst its key findings, the Alliance has found that:
15% of payday loan borrowers fall into a debt spiral over a 5 year period
More than 4.7 million individual payday loans were taken on by around 1.77 million households between April 2016 and July 2019, worth approximately $3.09 billion
Digital platforms are adding fuel to the fire, with payday loans that originate online expected to hit 85.8% by the end of 2019.
The number of women using payday loans has risen from 177,000 in 2016 to 287,000 in 2019. Women now represent 23% of all payday loan users.
Recommendations
The payday lending market is continuing to grow and the Stop the Debt Trap Alliance is urging the Australian Government to introduce legislation that implements the recommendations of the SACC Review, to provide consumers with stronger protection from predatory pay lenders. These recommendations include:
Capping the amount payday lenders can take from an individual's income to 10%
Enacting and anti-avoidance provision into the national credit laws to enable the regulator to take enforcement action against traders avoiding the Credit Code, and
Preventing small amount credit contract providers from making unsolicited offers to current or previous customers.
Click here to read the full report.