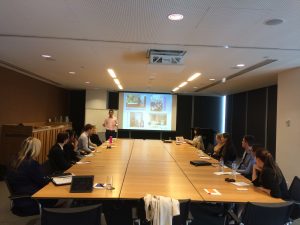 On 11 October, CCLSWA volunteers gathered at Ashurst's office to attend a Presentation Skills Training session. Volunteers learned how to make a good introduction, deliver the message, and keep audiences engaged. These skills are essential when presenting our Community Legal Education programs.
CCLSWA recently revamped our CLE materials to keep the presentations fresh and captivating for youth audiences. The training session also provided an opportunity to workshop the new materials before delivering them to high schools next year.
Maryann McKenna of KBE Human Capital attended the training as an observer. Maryann was very impressed with the quality of the training and the skills displayed by the attendees. As someone who gives many presentations, this was a great testament to the work put into the training by Edward and Isabelle. Many thanks to Maryann for her attendance.
To read more about our CLE programs, click here.