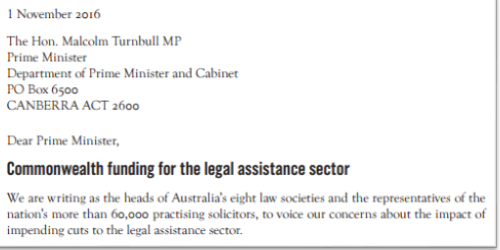 On 1 November 2016 the Presidents of each of Australia's eight law societies collectively wrote to Prime Minister Malcolm Turnbull urging the Government to make a commitment to adequately fund the legal assistance sector in the 2017 budget.
from 1 July 2017, the legal assistance sector faces a funding cut of almost $35 million over three years. The sector includes Community Legal Centres, Legal Aid, and Aboriginal Legal Service.
The letter stressed the importance of the legal assistance sector.  The sector helps to ensure fairness and efficiency in our court system and provides essential access to justice for the most financially disadvantaged in our community.
The eight law societies represent over 60,000 solicitors throughout Australia.
To read the letter in full, click here.