Paint maker Dulux has been fined $400,000 for misleading claims that two of its paint products could reduce the temperature inside a home.
On 2 November 2016, the Federal Court ruled against Dulux in a case commenced by the Australian Competition and Consumer Commission (ACCC) four years ago. The Federal Court found that  Dulux had made false or misleading claims concerning two of its products: InfraCOOL roof paints and Weathershield Heat Reflective wall paints. Dulux made claims that the paints, when applied to roofs or the exterior walls, could reduce temperatures inside homes by up to 10 degrees. The court found that these claims were false after Dulux admitted they did not have reasonable grounds for the claim.
Dulux accepted the Court's finding and will pay penalties totaling $400,000 and legal costs of $150,000.  Dulux will also publicly apologise both in The Australian and on the Dulux website.
For more information, see:
http://www.abc.net.au/news/2016-11-03/dulux-hit-with-24400k-fine-for-misleading-claims/7991882
http://www.news.com.au/finance/business/other-industries/dulux-group-fined-400000-for-misleading-paint-claims/news-story/fb89bc160d03c310c18e88eabe1b368e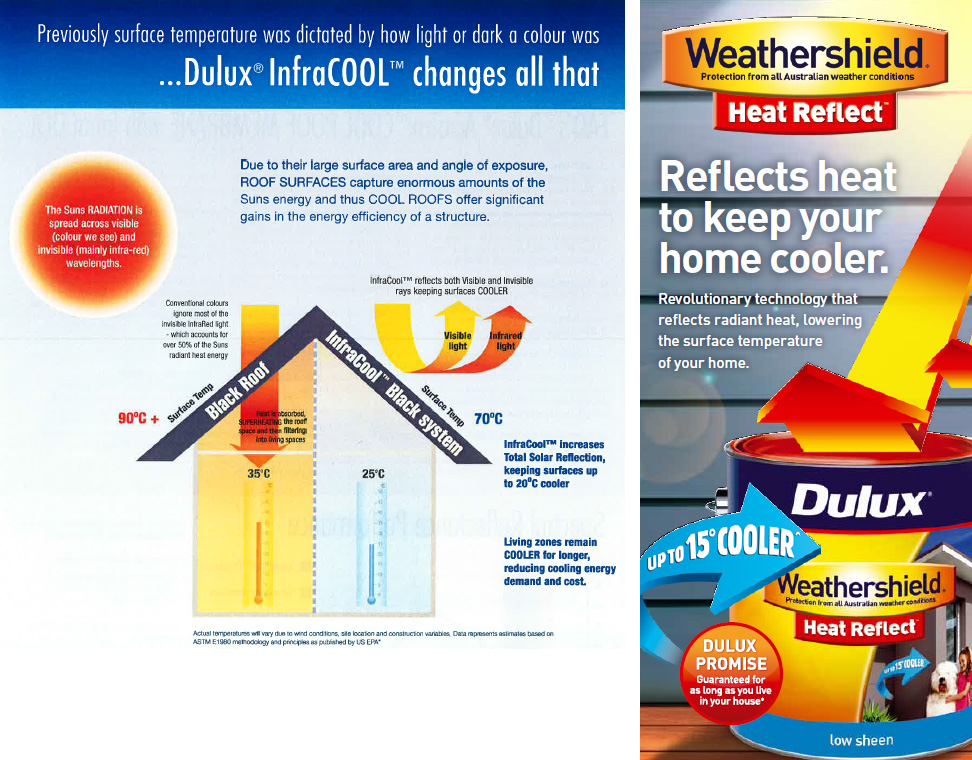 Source: Australian Competition and Consumer Commission https://www.accc.gov.au/media-release/dulux-to-pay-400000-for-misleading-cooling-paint-claims