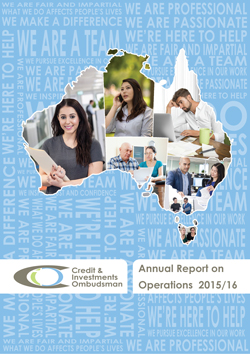 This week the Credit and Investments Ombudsman (CIO) released its Annual Report on Operations.
CIO offers an impartial dispute resolution scheme to assist consumers in resolving complaints with financial service providers that are members of CIO*. Consumer Credit Legal Service (WA) Inc regularly refers clients to CIO where they are in dispute with a CIO member.
In the 2015/2016 financial year, 4760 complaints were made to CIO against financial service providers, 61% of which were resolved in the consumers favour.
Principal Solicitor Gemma Mitchell is a member of CIO's newly established Consumer Liaison Committee and is featured on page 39 or the report. The committee meet quarterly to discuss emerging issues in the sector, to provide feedback on the work of CIO, and to identify areas and opportunities to focus resources to achieve better consumer outcomes.
A copy of the report can be downloaded from the CIO website by clicking here.
*A financial service provider must be a registered member of an ASIC approved External Dispute Resolution Scheme. Other such schemes include the Financial Ombudsman Service. For more information see ASIC Regulatory Guide 165