At the heart of every community legal centre, you will find a core group of passionate social justice advocates who are constantly seeking opportunities to better serve their clients and the general public. In April 2016, Consumer Credit Legal Service (WA) Inc. (CCLSWA) began exploring how it could utilize social media to more effectively engage the community on credit and debt, and consumer law matters. CCLSWA firmly believes that education and early intervention help prevent minor legal problems from becoming complicated issues. Indeed, community legal education sessions and CCLSWA's website offer a wealth of information about consumer rights and obligations. Unfortunately, many people who could benefit from CCLSWA's assistance do not know that these services exist. This often means that by the time clients approach CCLSWA, their problem has reached a point where they require complex legal advice or court representation, placing them under extra financial and emotional pressure.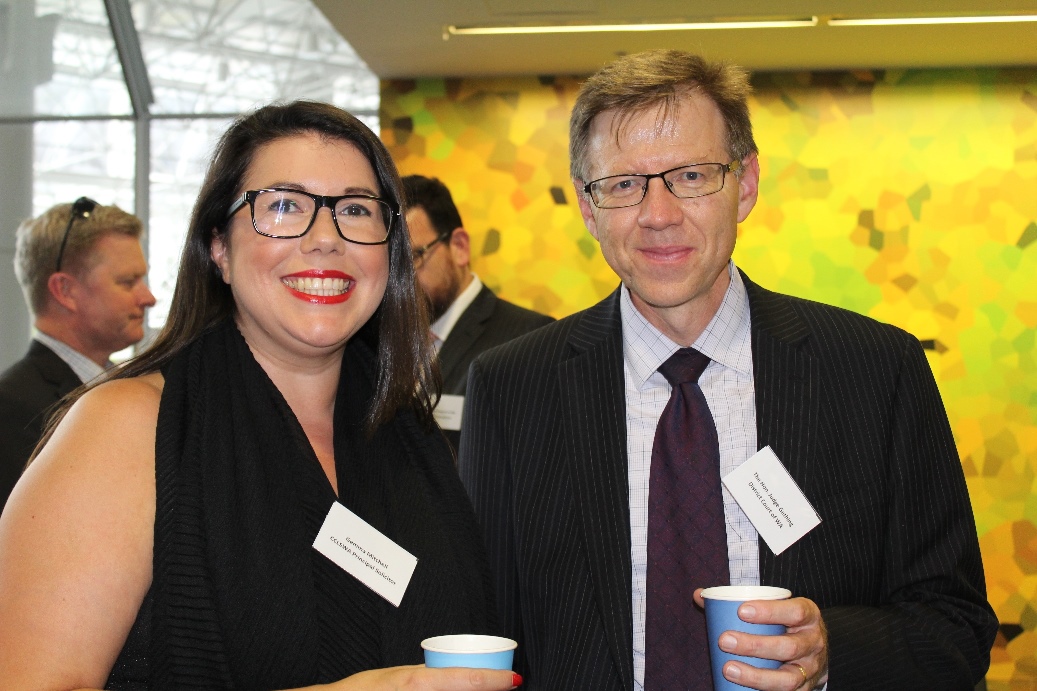 Photo: CCLSWA Principal Solicitor Gemma Mitchell and the Hon Judge Michael Gething at the launch
In a bid to raise awareness about CCLSWA's services, and to encourage the community to better understand their legal rights, CCLSWA has launched itself into the world of social media. As this project developed, the potential to broaden CCLSWA's reach became endless. CCLSWA solicitors and volunteers contributed over six months of hard work to develop a Facebook, Twitter and Linkedin presence. All that worked culminated on 15 December 2016 when over 70 guests gathered at the QV1 Theatrette for the official CCLSWA Social Media Launch. The event showcased all of CCLSWA's social media pages and how they would be used to engage with various audiences.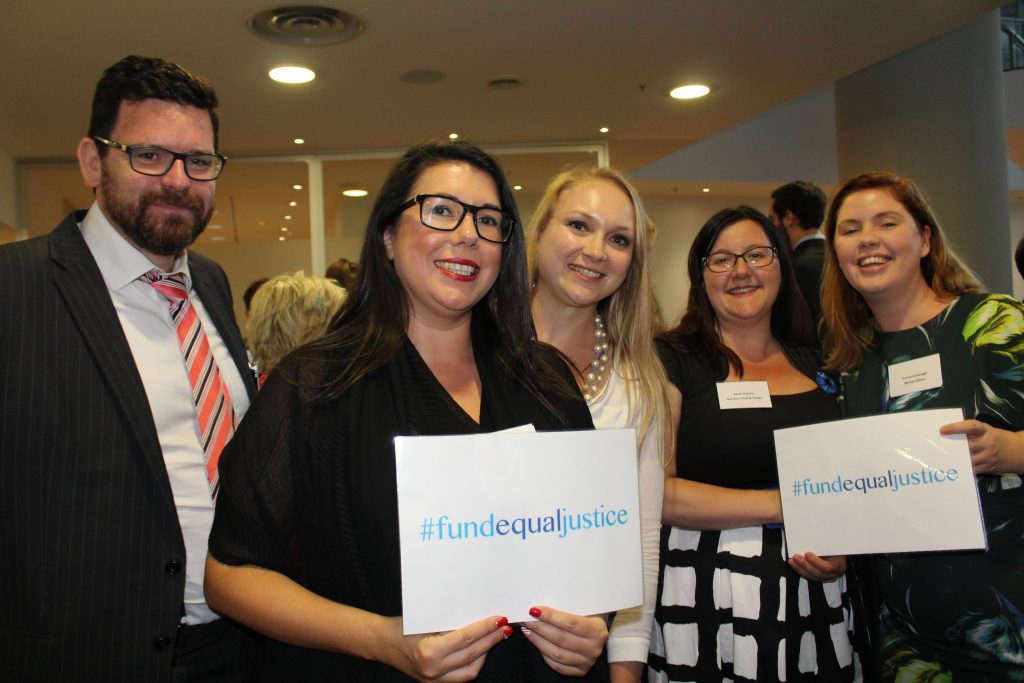 Photo (L-R): Solicitor General Peter Quinlan SC, Gemma Mitchell, Rosie Poole, Sarah Ozanne, Emma Cavanagh harnessing the power of the hashtag.
The night started with a few unfortunate, but amusing technical difficulties, but the event ran smoothly. Keynote speaker, Solicitor General Peter Quinlan SC, discussed the pros and cons of Facebook. Amongst the pros, he highlighted how images on Facebook can be used to inspire social change.  Mr Quinlan's speech was followed by a presentation from CCLSWA Volunteer Paralegal Lawrence Page, who went into greater detail about how CCLSWA intends to use each of its social media platforms and the outcomes that the strategy aims to achieve.
Facebook
According to Social Media Statistics Australia, over 15,000,000 Australians have a Facebook account. As such, it can be used to reach an enormous audience.
CCLSWA uses its Facebook page to distribute complex legal information in a simplified manner, through the use of info-graphics, charts, links and videos.
Each month, our Facebook audience is captivated by a different theme. These themes correlate to CCLSWA's website and newsletter. Whether you'd like to know more about avoiding online romance scams or your rights when purchasing a car, you'll find it on CCLSWA's Facebook page.
The posted information is interesting, engaging and relevant, which helps to increase traffic on the page. With each visit, like or share that the page receives, the more people will hear about CCLSWA and the services offered.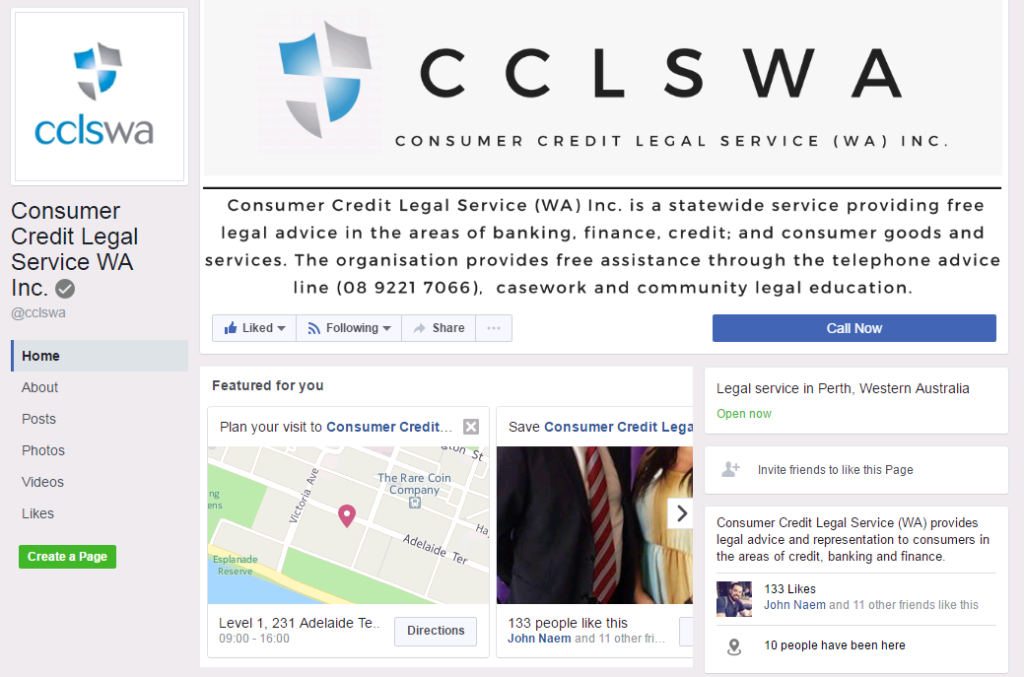 Image: CCLSWA's Facebook page
Twitter & Linkedin
During his presentation, Lawrence explained how Twitter and Linkedin would assist CCLSWA in raising its profile on social media.  He believes that through these platforms, CCLSWA is able to keep up to date on news, events and activities being carried out by others in the legal profession. He used the #fundequaljustice campaign as an example of how social media helped raise awareness about the Australian government's funding cuts which threaten access to justice.  Users on Twitter and Linkedin can use this hashtag when commenting on a variety of topics that affect access to justice, drawing them closer together and allowing for debate and collaboration.
Photo (L-R): Norton Rose Fullbright Vacation Clerk, Karri Coles and CCLSWA volunteer paralegals Lawrence Page, Jessica Vu and Milica Jankovic displaying spreading the #fundequaljustice campaign.
CCLSWA would like to thank DLA Piper for arranging the venue, Cullen McLeod, and Cellarbrations for donation of the wine, and the Piddington Society for supplying the glassware.
What now?
Since the Social Media Launch, CCLSWA's Facebook page has gained over 100 followers and the numbers continue to multiply. Clients have used Facebook to find CCLSWA's services, contact details and website information. In addition, the legal community continues to use Twitter and Linkedin to connect with CCLSWA. Throughout this year, CCLSWA hopes to continue to grow its social media presence and following. So, if you'd like to be a part of CCLSWA's social media campaigns check its pages out on Facebook, Twitter and Linkedin.
CCLSWA is one of the many Community Legal Centres that will be greatly affected by the funding cuts due to occur mid 2017. As a result of inadequate funding,  CCLSWA may be forced to reduce the number of paid full time solicitors. This will directly affect CCLSWA's capacity to recruit, train and supervise law students as volunteers, who play an integral role in the provision of free legal advice to Western Australians. This reduction of CCLWA's capacity will have an overwhelmingly negative affect on how many clients CCLSWA can assist. While social media will assist clients in gaining an awareness of the services that CCLSWA offers, it will not fully cater for the gaps left due to inadequate funding.
Article by Haya Snobar
Haya Snobar is a Murdoch University graduate with a Bachelor of Laws. She has been heavily involved with a number of Community Legal Centres since 2014. She is currently completing her Practical Legal Training at CCLSWA through the Piddington Justice Project, which aims to provide greater opportunity for law graduates to enter the legal profession, as well as increasing funding to community legal centres, further improving access to justice for all.