Debt Collectors
If you have an outstanding debt with a credit provider, you may be contacted by a debt collector. If a debt collector contacts you, you should first determine whether the debt collector:
is acting on behalf of the credit provider you owe the debt to; or
has bought your debt from that credit provider, so that you now owe that debt to the debt collector instead.
If you cannot afford to pay the debt, you may wish to negotiate a repayment plan with the party you owe the debt to. This could mean either paying the debt off in instalments or paying a lump sum in return for the remainder of the debt being waived. Financial Counsellors can sometimes assist with such negotiations or with managing debts generally.
The conduct of creditors and all debt collectors is regulated by the Debt Collection Guideline. Under this Guideline, creditors and debt collectors cannot do certain things when pursuing payment of a debt. For more information on what debt collectors can and cannot do, download our fact sheet Debt Collection Issues and Complaints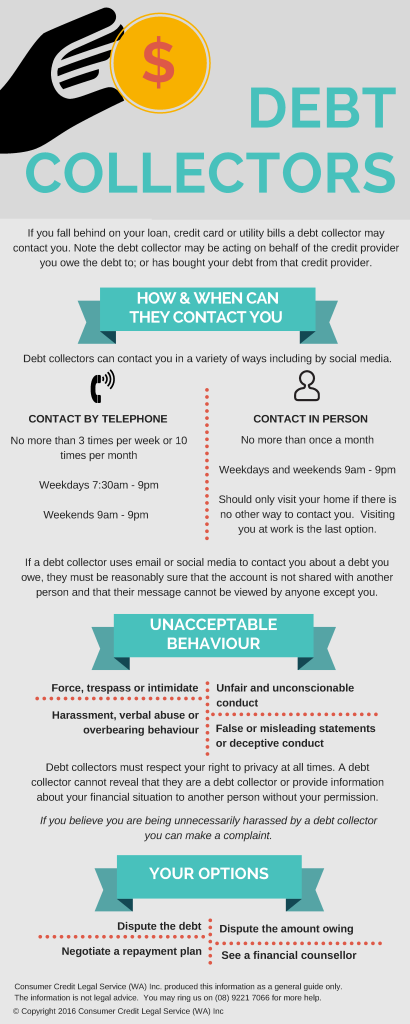 If you feel that you are being harassed or unfairly treated by a debt collector, you may be able to make a complaint against the debt collector. To assist you to make a complaint to a debt collector, Click Here for our sample letter.
If it has been six years since you have last acknowledged or made a payment towards a debt and there has not been a court judgment against you, the debt may be statute-barred. This means that the debt collector may not threaten you with legal action if you do not pay the debt. If you believe that a debt you owe may be statute-barred, you may wish to contact our advice line on (08) 9221 7066.
If you have received legal or Court Documents from the debt collector, please contact us.